Jurassic World: Dominion Dominates Fandom Wikis - The Loop
Play Sound
General
[
]
Skills are special abilities which a Gear can activate to enhance its performance in battle, which require Skill Points to use. A Gear's Spirit stat determines the amount of skill points it has at it's disposal. Each Gear type has its own unique skills.
Skills can be purchased in the city's' Skill Shop with SPI, and can also be upgraded to higher level versions once the player meets the skill's level requirement 
Some skills also require the player to posses unique items before they are able to be purchased. These powerful skills are known as "Elite Skills" and "Special Skills" - every Gear type has at least 1 Elite and 1 Special skill available, and a player must purchase Elite Skill and Special Skill Opening Cards at the War Point Shop before they can purchase these Skills. (The Opening cards can also be acquired from certain monsters, but this is extremely rare).
In addition to combat skills, a player may also purchased the Buying Shop and Selling Shop skills, which allow them to open a personal shop in their city to buy and sell specific items with other players. See Player Shop for more information
Categories
[
]
Attack skills
Defence skills
Air skills (Movement skills)
Attribute skills
Skill Shop Interface:


Skill Gear info Interface: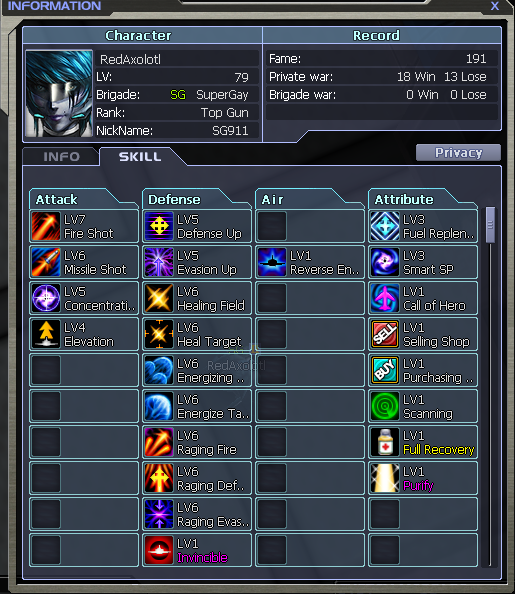 M-Gear (Meadow Burgle)
[
]
Attack skills:
[
]
Defense skills:
[
]
Air skill:
[
]
Attribute skills:
[
]
I-Gear (Idle Sniper)
[
]
Attack skills:
[
]
Defense skills:
[
]
Air skill:
[
]
Attribute skills:
[
]
B-Gear (Brandy Burg)
[
]
Attack skills:
[
]
Defense skills:
[
]
Air skill:
[
]
Attribute skills:
[
]
A-Gear (Anima Mortar)
[
]
Attack skills:
[
]
Defense skills:
[
]
Air skill:
[
]
Attribute skills:
[
]
Infinity Field monsters
[
]
There are several Infinity Fieldmonsters which possess unique skills:
Pressure

Breakdown

Lock-down

Yellow Light

Red Light

Freeze

Drain

Repair

Repair Zone

Inverse

Force Field

Gravity Field

Holy Bomb