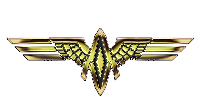 General
[
]
B.C.U. is one of two factions in Ace Online, with the other being A.N.I. Their base of operations is Bygeniou City.
The largest of the Decan nations is the Bygeniou City United. The B.C.U. government is run by the National Force Union whose longtime goal is to unify the planet of Phillon. With a very hard-line stance on unification, they have rejected other races and nations. These actions have led to rifts that weakened the government and have spawned enmity with the people in Bygeniou as well as outside. The end result was the separation of Arlington City and the creation of other anti-government movements. These rebels, supported by the Vatallus, formed their own government and are now openly opposing the BCU.
Unlike the traditional government military, its elite mercenary unit from the FreeSKA Academy has unparalleled freedom in the armed forces and is capable of acting independently of the government. Their missions and even command system, operate independently of the government, allowing them full mobility under any circumstances.
The Bygeniou believe in unity by force. They will however put aside their beliefs to respond to an even greater danger. They have vowed to abandon the ATUM Project due to its destructive nature.
see also
[
]